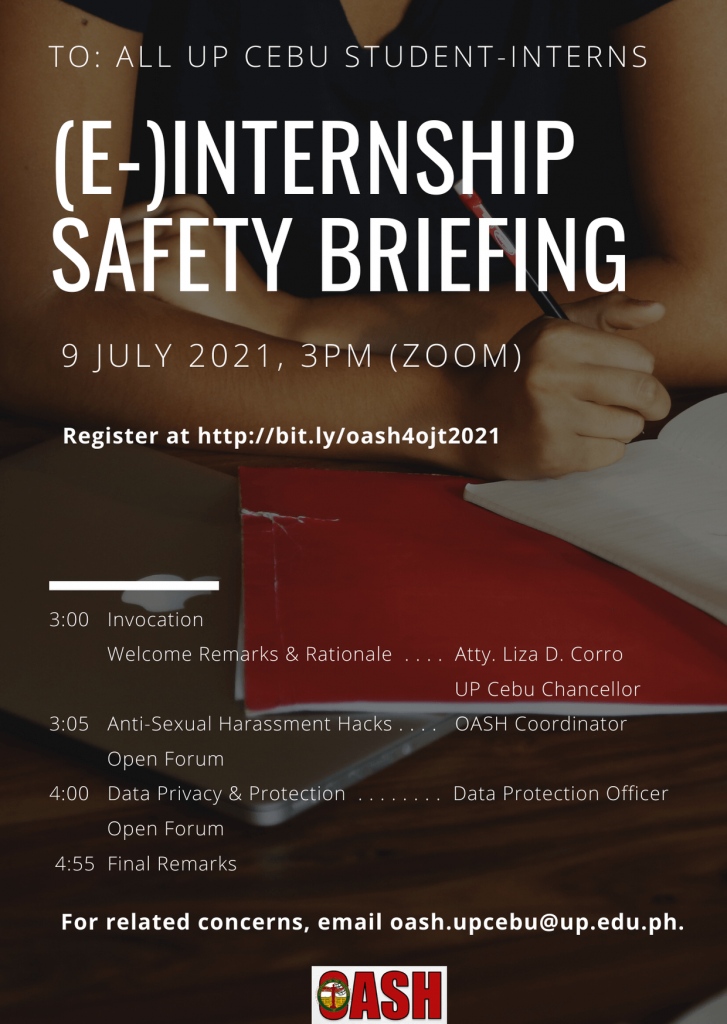 The Office of Anti-Sexual Harassment (OASH) successfully conducted its (e-)Internship Safety Briefing on 9 July 2021 via Zoom with 81.8% of the participants evaluating it as excellent.
It was a well-attended event with 53 registrants from UP Cebu (UPC), 75 from UP Visayas Tacloban College (UPVTC), and peak attendance reaching 85 Zoom participants excluding the organizers and speakers.
With the facilitation of the Teaching and Learning Resource Center (TLRC), the event promptly started at 3pm with Chancellor Liza D. Corro welcoming all participants. Chancellor Corro emphasized the briefing's importance in ensuring a safe workspace for student-interns as informed by the pandemic-induced virtual character of internships.
It proceeded to feature anti-sexual harassment hacks by OASH Coordinator, Archill Niña F. Capistrano, and followed by the talk on Data Privacy and Protection by Dr. Marie Rose Arong, Data Privacy Officer of the College of Communication, Art and Design.
The briefing culminated with a mission-sending statement culled from the Statement of the Philosophy of Education and Graduate Attributes of the University of the Philippines.