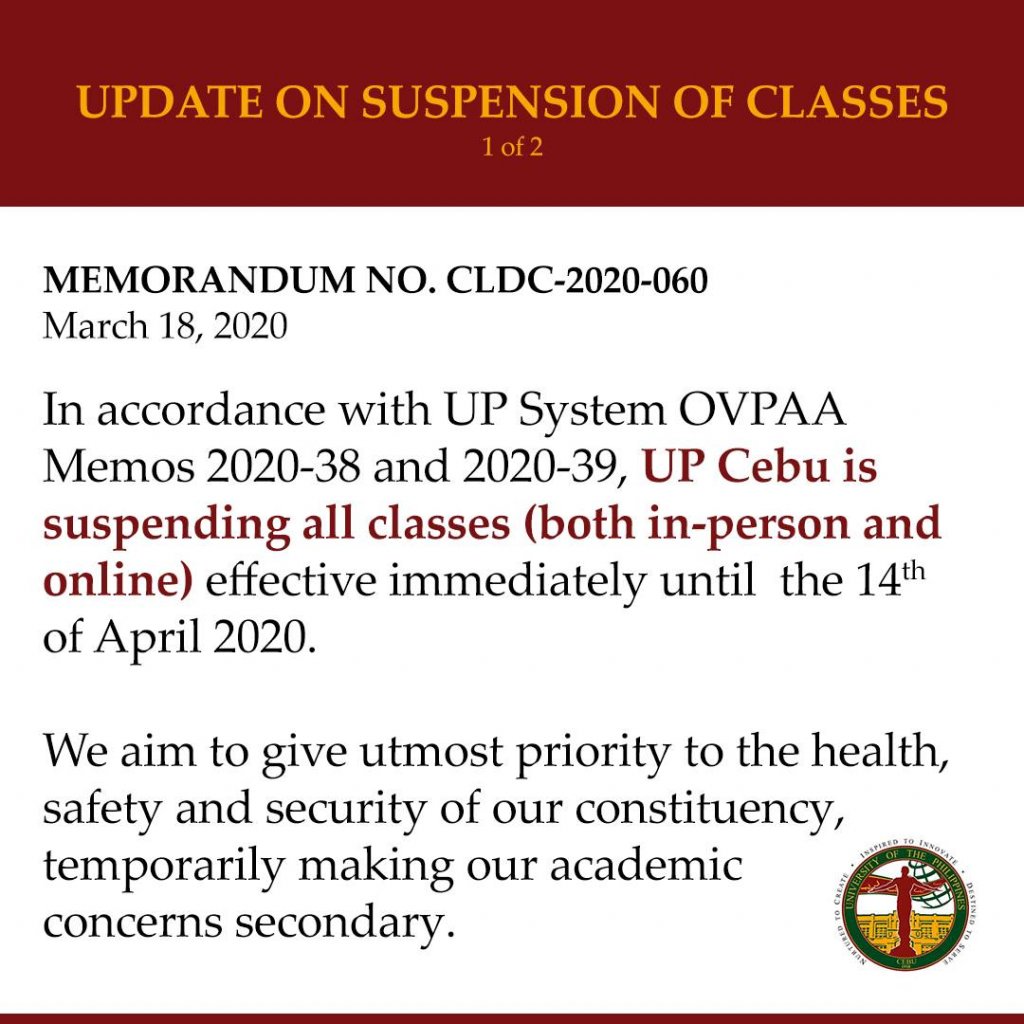 18 March 2020
MEMORANDUM NO.:  CLDC-2020-060
TO:
ALL FACULTY THROUGH THE DEANS
CC
OVCAA; OVCA; HRDO; OUR; PIO
FROM
ATTY. LIZA D. CORRO
Chancellor, UP Cebu
SUBJECT: Class Suspension
These are challenging times of global public health emergency and state of calamity in the country. In this uncertain environment, we try to respond to the crisis promptly. Yet through consultations and deliberations, we also carefully figure out our actions the best we can as we go along. We thus appeal for your kind consideration.
In accordance with UP System OVPAA Memos 2020-38 and 2020-39, UP Cebu is suspending all classes (both in-person and online) until 14 April 2020. We aim to give utmost priority to the health, safety and security of our constituency, temporarily making our academic concerns secondary.
We, nonetheless, hope to clarify that while we are forced to suspend our class activities, we reiterate what the UP System contends: "that academic requirements must be met or that learning continues, however imperfect the learning conditions. It is in this spirit that students are expected to attend to the readings and assignments given them before the lockdown. What is suspended is not learning per se but additional activities and submissions of output following the deadlines set in the original class syllabus or immediately before the lockdown."[1]
We thus enjoin our faculty members to ensure that you will promptly and creatively provide these avenues and materials for our students to read, reflect on and learn from, without requiring them any submissions or assessments in whatever form while classes are suspended. You may stay in contact with our students and make yourselves available for online consultation, whenever feasible for you and the students, to facilitate the learning process.
Faculty members are also expected to maximize this Work-from-Home regime to focus on your research, as well as to prepare your respective syllabi towards blended learning pedagogies within the framework of an Outcome-Based Education (OBE). Please use the attached template in preparing your drafts that we can all work on when we conduct our APIs towards full compliance to OBE standards.  We expect the complete submissions of these drafts to your respective College Deans upon resumption of our regular classes.
Also reiterating the OVPAA Memo 2020-39: "For units informally requesting to resume their online classes and alternative learning activities earlier than 14 April 2020 for various reasons—including timing the graduation for this year's professional licensure examinations—the Department Chairs, Institute Directors or College Deans of such units will be required to address their request for exemption from the period of class suspension to UP President Danilo L. Concepcion through the CU Chancellor with the attached revised syllabus and plan of action to ensure compliance with the terms of the lockdown."
Please be guided accordingly.
Thank you very much for your cooperation.
[1] Download Syllabus in OBE Format Template
Download Memo CLDC 2020-060_Class Suspension
Download OVPAA Memorandum rev 2020-39-2