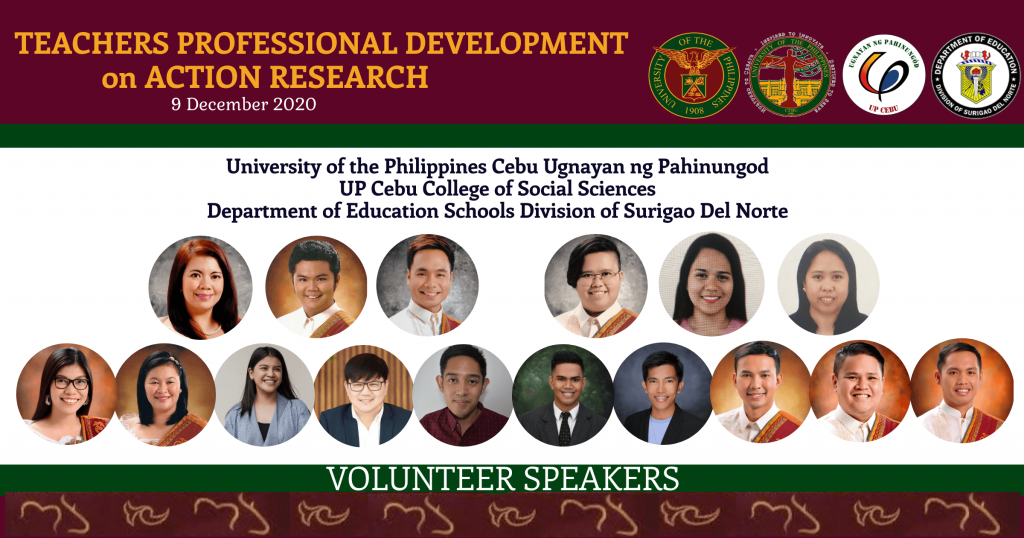 The University of the Philippines Cebu Ugnayan ng Pahinungód in partnership with UP Cebu College of Social Sciences and Department of Education Schools Division of Quirino and Division of Surigao del Norte held a series of sessions for Teacher Professional Development on Action Research.
Around 300-400 teachers from elementary, junior and senior high school were expected to join the program. The webinar-workshop was broadcasted through a projector in their schools since not all have stable internet connection. In terms of research experience, most of the participants have not conducted an action research; which is why Pahinungód saw to it that this webinar-workshop was important.
SURIGAO TPD
"The webinar inspired us to do our action research. Thank you Pahinungód volunteers".
Said by Ms. Grace Urbiztondo, Education Program Specialist of DepEd Surigao Del Norte Division in the Teachers Professional Development (TPD) on Action Research organized by the College of Social Sciences (CSS), UP Cebu Ugnayan ng Pahinungód and Schools Division of Surigao Del Norte on 9 December 2020. Attended by more than 150 teachers, the TPD aimed to develop teachers' skills on conducting action research.
In his Welcome Address, CSS Dean Michael Francis Abad encouraged the participants to make research proposals. Assistant Schools Division Superintendent Laila F. Danaque commended the volunteers for sharing their expertise in doing research.
Plenary speakers Prof. Magnolia Laus, Ethics Committee Member, Prof. Kim Bondoc, and Mr. Sean Policarpio discussed their research experience on migration to e-classroom. Prof. Jeraline Gumalal and Ms. Joy Donque presented the STArt concept about developing research agenda through interest and problems.
Breakout sessions were conducted to customize the needs of participants. For English, Prof. Aurelio Vilbar, Prof. Francis Luis Torres, Ms. Angelika Fae Amado, and Ms. Cristifaith Mascardo presented their research on creative online writing and developing e-learning materials. For PE, Prof. Joan Grace Pacres and Mr. Nino Ybañez presented their research on teaching PE the new normal.
For Mathematics, Prof. Jun Carl Alenton, Mr. Robert Jay Angco and Mr. Dexter Gabica presented their research teaching mathematics and creating indigenous mathematics materials. For Sciences, Prof. Jeraldine Gumalal, Ms. Joy Donque, and Ms. Nouiea Bernardelle Acabal presented their research on integrating arts in sciences. For Social Sciences, Prof. Edwin Estrera and Prof. Magnolia Laus presented their research on curriculum evaluation and bullying.
From the Post Activity Evaluation, the participants said that the webinar was valuable and informative and it challenged them to do and love research. They suggested follow-up workshops on the step-by-step process in conducting research.
Article and Photos || Mileni Torres, UPC Pahinungód