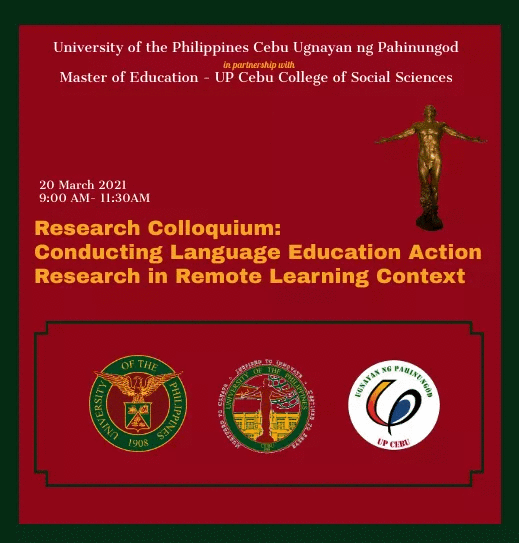 "The Master of Education is committed to foster teaching and research with volunteerism."
Stressed by MEd Coordinator Dr. Catherine Rodel in her welcome address in the Research Colloquium: Conducting Language Education Action Research in Remote Learning Context on 20 March 2021 via Zoom organized by UP Cebu Ugnayan ng Pahinungod in partnership with UP Cebu College of Social Sciences.
With more than 133 participants, the colloquium featured completed research and proposals by UP Cebu Master of Education students and partners that aimed to investigate the ELT pedagogies and learning context in the new normal. Plenary speaker Dr. Aurelio Vilbar discussed the research agenda for action research on remote learning.
Breakout sessions were conducted to customize the needs of participants. For room 1, Ms. Eva May Quezon and Mr. Antwin Daugdug presented their research on remediating grade 9 students' English grammar proficiency in the new normal. Mr. Jouie T. Singahan and Ms. Karen Jane O. Sandoy discussed their research about the digital remediation on improving english writing skills through lecture, blog and gamification. Ms. Amalia Potot presented her research about the impact of contextualized open source storybooks for selected grade 9 students' reading comprehension and Ms. Donna Teressa Oropel presented her research on the impact of online tutoring on grade 10 students' extemporaneous speaking performance.
For room 2, Mr. Deal Demetillo and Ms. Mary Ann Datoy both discussed their research about synchronous and asynchronous virtual writing sessions in the new normal and its impact to SHS students. Ms. Mary Eugenie Joy and Ms. Angel Ruth Moran presented their research on the face-to-face tutorial of extemporaneous speaking to grade 11 students. Ms. Love Joy Colina presented her research about the development of learning modules in 21st century literature from the Philippines and the world. Ms. Kaye Camille Cui talked about the effect of online written peer feedbacking in blogging on students' writing skills.
For room 3, Ms. Janice Pontillas and Ms. Cherry Mae Selanoba presented their research about reading aloud in improving speech fluency among EFL adult learners. Mr. Kent Arylle Canete and Ms. Lestligen Degamo discussed their research on the use of blended learning to college students' language remediation programs. Ms. Ma. Helena Jumao-as presented her research on the impact of blended reading approach to students' comprehension skills. Ms. Hannah Joyce Balagtas presented her research on the impact of training programs for parents as home tutors in teaching english language skills to their children.
For room 4, Ms. Rubie Sweet Catunda, Ms. Estella Gingoyon and Ms. Maria Felice Incorprorado presented their research on e-tutorial in the digital age focusing on the writing skills' satisfactions and challenges. Ms. Jeir Amabelle Esmero discussed their research about the face-to-face remedial program of a grade 6 learner's reading comprehension through a series of writing activities. Mr. Rico Orillaneda and Ms. Miraflor Lumayno presented their research about enhancing pronunciation skills of grade 7 learners through speech sounds amidst pandemic. Ms. Faith Monique Abaigar presented her research on the impact of GCED-based reading worksheets on grade four learners' reading comprehension.
From the post activity evaluation, the participants said that the colloquium made them realize that the lack of face-to-face interaction is not a hindrance to help students improve their skills and to conduct action research. The participants learned there are a lot of possible research topics and methodologies that can be used in conducting action research, and that conducting action research is much more needed and relevant especially on transitioning from face-to-face to online/modular instruction.
Article by Alaiza Heaven Delantar
---
Pictures during the Research Colloquium