It has been nine months since the quarantine was implemented in the country due to the pandemic last March 2020. And in that period, the business community and the workforce alike have somehow adopted the "new normal." And as the government eases restrictions, business recovery is underway. However, many people, including MBA students, are still facing a lot of struggles in their day-to-day activities. For some, the workplace demands have changed, and even those who have the privilege to work from home are finding it difficult to separate work and house activities. These challenges and a lot more have led to anxiety.
To help the students gain insights into developing mental resiliency and achieving a work-school-life balance, the MBA Council officers tapped experts from Human Resource and Psychology to share their expertise and best practices.
The council held the 1st webinar entitled: "Building Better Mental Health" in 09 December 2020. The talk was conducted by Dr. Michelle A. Cellona, RPsy, Ph.D., Founder and Operator of MindPro Psychological Services. In her talk, Dr. Cellona cited the difference between anxiety and depression and how to cope with them. She also shared a 4-thought process framework in dealing with problems: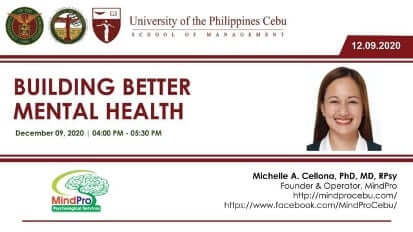 What do I want?
What have I already done to solve the problem?
Are those enough?
What's my plan? 
The 2nd webinar was held on 14 December 2020, entitled "Managing Work-School-Life in the New Normal." The current Director of Training and Consulting of Profiles Asia Pacific, Inc., Ms. Abegail Pulma Tongco, Ph.D. OD, conducted the session
Abbi, as how she prefers to be called, highlighted the importance of creating a personal compass or Vision-Mission statement as a first step in managing our lives. She also shared the Eisenhower Matrix, a tool that we can use to plot Urgent-Important tasks. This tool helps provide visual clarity on the tasks that we need to prioritize to strike a balance in all our responsibilities and prevent burn-out. 
To add more meaning to the event, the MBA Council took the initiative to make the webinar series a fundraising activity to support the Rotary Club of Metro Cebu #PROJECTULYSSES Donation Drive. The funds collected are going to be used to purchase goods for donation to the victims of Typhoon Ulysses in Tuguegarao, Cagayan. The council collected PHP 100.00 (minimum) as the registration fee for the webinar. The council collected a total of PHP 6,500.00 at the end of the series.
The MBA Council Officers wish to thank everyone for making the event successful!