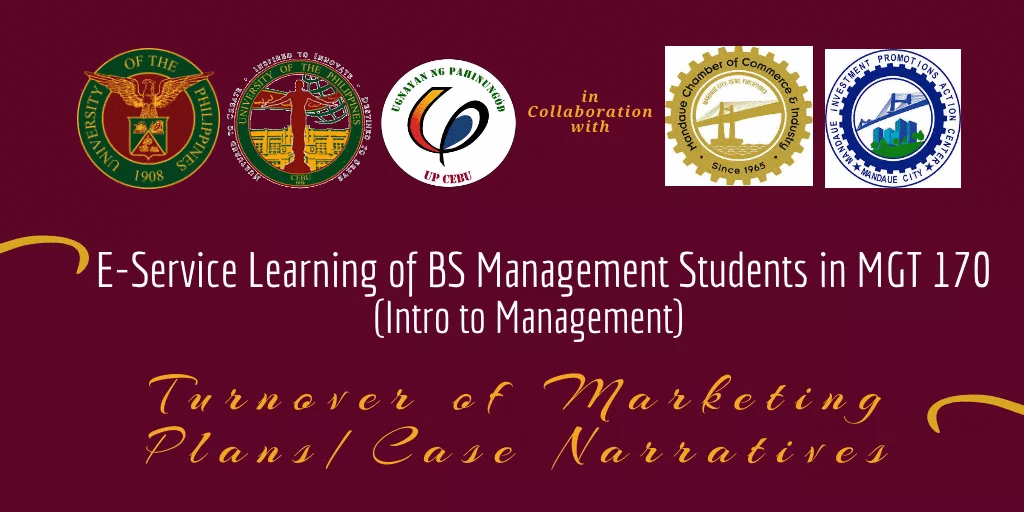 The pandemic did not stop the 69 students of UP Cebu Bachelor of Management (BM) 170: Introduction to Marketing under Prof. Mary Gretchen Chaves to conduct e-Service Learning (e-SL) to selected companies in Mandaue City from September 10, 2020 to December 11, 2020.
According to Prof. Chaves, "e-SL aims to immerse the students in the actual local marketing scenarios using the company and product information that the students have been given access to. The students created case narratives which were submitted to the companies as their class assessment."
The Mandaue Chamber of Commerce and Industry (MCCI) together with the Mandaue Investments Promotions Action Center (MIPAC) facilitated in deploying the BM students to selected companies where they can help in making marketing plans and cases for these companies.
UP Cebu Ugnayan ng Pahinungod hosted a formal turnover of marketing plans or case narratives from January 27, 2021 to February 11, 2021 via Zoom with the assistance of the UP Cebu Teaching and Learning Resource Center. The marketing plans were received by: Dr. Teodoro Gonzales, CEO of MAAYO WELL Cebu; Mr. Kelie Kho, the General Manager KGK Management Incorporation; Mr. Jefferson Tan, COO of Wellmade Motors Development Corporation; and Mr. Mark Anthony Ynoc, General Manager of San Remigio Properties.
Mr. Jefferson Tan said that he can definitely see that this kind of activity actually helps in the learning process of the students. In addition, Mr. Teodoro Gonzales expressed, "I am honored to have participated in this activity for it is very important for students to have a grasp of how it works in the industry to prepare them for a better future."
Mr. Steven Alaine Yu hoped that this activity was able to help the students and opened their eyes more to the realities of life especially now that the community was suffering from the pandemic. Mr. Kristian Marc Cabahug, Executive Director of MIPAC added, "The students get to learn a lot to experience what it is and extend their learnings beyond what is taught in the classroom. He also left a reminder that the community needs to hold each other's hand helping each other especially in these trying times.''
During the turnover, Ms. Stephanie Alyssa Acosta, a BM student said, "Experience is the best teacher, and it has helped us mold and improve our knowledge of marketing''. Another student, Ms. Juvy Rose Carillo added, "We are feeling very nervous however with the support of everyone we were able to gain strength."
Ms. Bibi Jessica Golocino said, "In this e-SL, we learned to create a case study, gather information and formulate necessary guide questions." Juvy Rose Carillo added that these experiences helped them apply their learnings into the real world. In his Closing Remarks, Prof. Aurelio Vilbar, Director of UP Cebu Ugnayan ng Pahinungod said, "We are inspired to innovate meaningful learning experiences to our students despite the challenges of pandemic and internet connectivity. The e-SL of Prof. Chavez's class showed the spirit of the iskolar ng bayan to serve, learn, and volunteer.''
Article by Alaiza Heaven Delantar
---
Pictures during the Turnover of Marketing Plan/Case Narratives of Management students under Prof. Mary Gretchen Chaves in collaboration with MCCI and MIPAC
Turnover of Marketing Plan/Case Narratives of Management students to MAAYO WELL Cebu
27 January 2021 via Zoom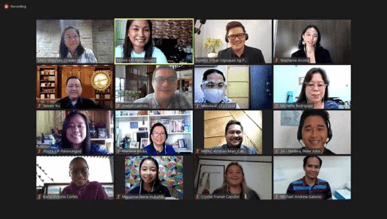 Turnover of Marketing Plan/Case Narratives of Management students to KGK Management Inc.
09 February 2021 via Zoom
Turnover of Marketing Plan/Case Narratives of Management students to Wellmade Motors and Development Corporation
10 February 2021 via Zoom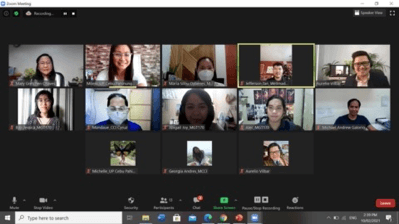 Turnover of Marketing Plan/Case Narratives of Management students to San Remigio Properties
11 February 2021 via Zoom