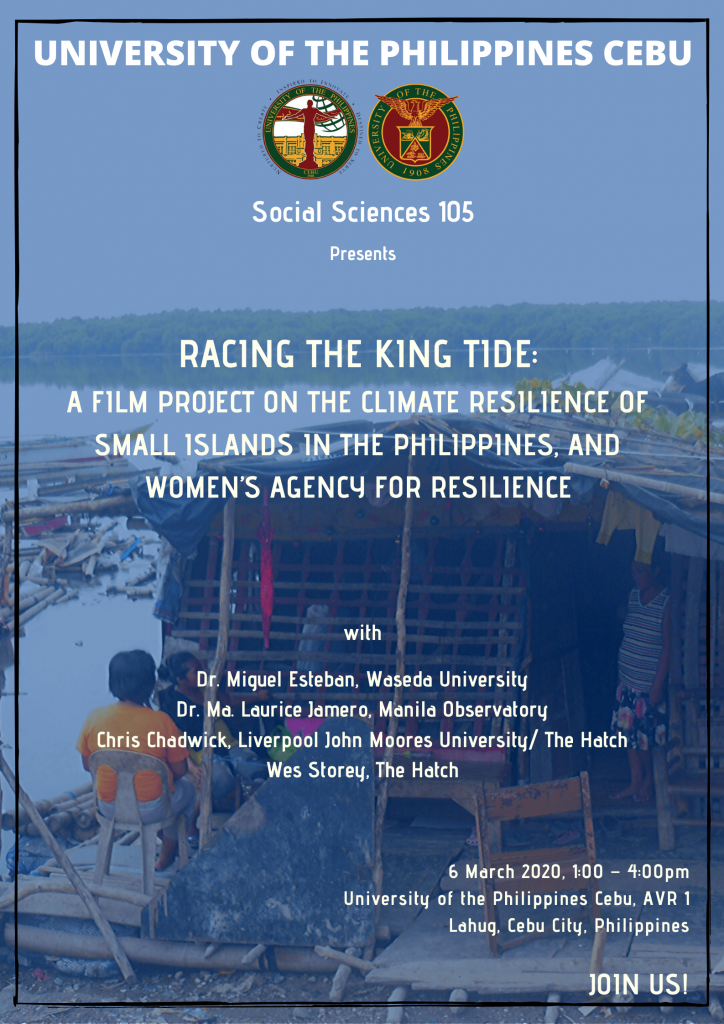 The projected impacts of climate change pose a very real danger to communities in low-lying small islands. Many sensational news articles tell the story of "sinking" and "disappearing" islands, highlighting mass migration as the only viable solution. However, this alarmist narrative tends to disregard the resilience of island communities, who have been living with environmental changes and extreme events such as coastal erosion and storm surge for many years.
The class of "Gender Issues in the Philippines" (Social Sciences 105) is hosting an interactive forum featuring the film project of our invited guest researchers from the Manila Observatory – Philippines, Waseda University – Japan, and Liverpool John Moores University – United Kingdom. The film Racing the King Tide is a project that deep dives into the experiences of four small island communities in Tubigon, Bohol who have been adapting to extreme tidal flooding since 2013, despite numerous constraints. Using interactive storytelling and building on scientific research, the film project reveals how vulnerable communities are far more resilient than we think.
Also forming part of our celebration of Women's Month, we are conducting the activity on 6 March 2020, 1-4 PM at UP Cebu AVR 1. We collaborate with our partners in organizing an interactive exhibit entitled: Racing the King Tide: A film project on the climate resilience of small islands in the Philippines, and women's agency for resilience. During this exhibit, we will use virtual reality films as a platform for discussing climate resilience, particularly the challenges and opportunities women face in adapting to climate change.
For this, I would like to cordially invite you and your organization to join us in this activity and help us raise awareness and gain deeper understanding on the risks of climate change and building community resilience, particularly from sea level rise.
More of Racing the King Tide here.