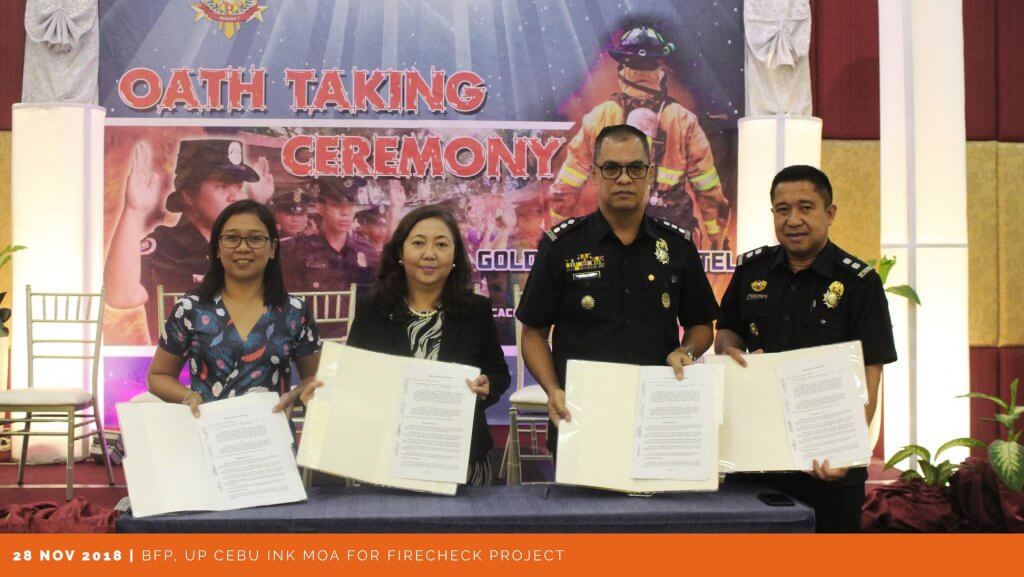 BFP 7 Regional Director, SSUPT Gilbert D. Dolot, and UP Cebu Chancellor Atty. Liza Corro alongside FireCheck Project leader, Prof. Aileen Joan Opina-Vicente signed the MOA to seal the partnership in a brief ceremony during the BFP-7 oathtaking event of newly promoted personnel.
"I am truly excited about the partnership and I appreciate other agencies coming to us, helping us with the projects we want in mind", said Dolot.
Firecheck intends to develop fire hazard maps and plans in three highly urbanized cities in Metro Cebu – Cebu, Mandaue, and Lapu- lapu; design and develop a fire spread simulation model for forecasting and damage estimation, and develop a mobile app for 3d rendered community maps which shall aid our firefighters from BFP-7 on their fire response procedures.
The FireCheck Project is implemented by UP Cebu through the DOST PCIEERD Grants-In-Aid program.